by Piter Kehoma Boll
Among the numerous groups of single-celled organisms, the ones that seem to be the closest to the animals are the choanoflagellates. Since none had been presented here yet, let's introduce one today. Named Codosiga botrytis, I decided to call it the common silent bell. Silent bell here is a translation of the genus name, Codosiga, which comes from Greek kodon, bell and sigē, silence, whisper.
Found in freshwater, especially in Europe, the common silent bell has the typical appearance of most choanoflagellates. Its cell is oval and has a single flagellum that comes out of its posterior end. Around the base of the flagellum, there is a type of collar formed by many finger-like projections. This makes the cell look kind of like a bell indeed.
While many choanoflagellates swim freely as isolated cells, the common silent bell forms colonies of cells that are attached, through a small stalk at their anterior end, to a larger main stalk that is, in turn, attached to the substrate. The number of cells in a colony varies and increases as the cells reproduce asexually, reaching a maximum of about 20 cells.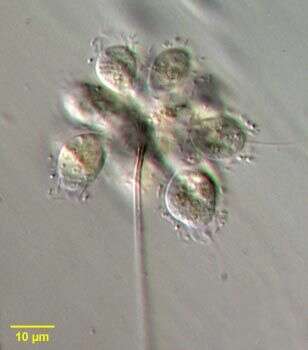 By moving their flagella, the cells generate a water current that moves upward along the colony and allows them to capture small particules with their colar and ingest them. Most of those particles are bacteria, but other organic particles, perhaps even viruses, can also be present in their diet.
Despite being a considerably common species and a considerable number of studies having focused on the ultrastructure of its cells, little is known about the ecology and physiology of the common silent bell. For example, no one knows how and if it reproduces sexually. Actually, we do not know anything about the sexual reproduction of any choanoflagellate, but there is genetic evidence suggesting that they can, indeed, reproduce sexually. We just need to investigate them more because, as with many other little investigated species, they probably hide interesting secrets.
– – –
– – –
References:
Carr, M., Leadbeater, B. S., & Baldauf, S. L. (2010). Conserved meiotic genes point to sex in the choanoflagellates. Journal of Eukaryotic Microbiology, 57(1), 56-62. https://doi.org/10.1111/j.1550-7408.2009.00450.x
Fenchel, T. (2019). Filter-feeding in colonial protists. Protist, 170(3), 283-286. https://doi.org/10.1016/j.protis.2019.04.002
Stoupin, D., Kiss, A. K., Arndt, H., Shatilovich, A. V., Gilichinsky, D. A., & Nitsche, F. (2012). Cryptic diversity within the choanoflagellate morphospecies complex Codosiga botrytis–Phylogeny and morphology of ancient and modern isolates. European journal of protistology, 48(4), 263-273. https://doi.org/10.1016/j.ejop.2012.01.004
– – –
*
This work is licensed under a Creative Commons Attribution-NonCommercial 4.0 International License.
**
This work is licensed under a Creative Commons Attribution-NonCommercial-ShareAlike 2.0 Generic License.