by Piter Kehoma Boll
Flatworms are the fourth largest animal phylum after arthropods, mollusks and chordates and most species known to date belong to the clade Neodermata, which includes parasitic species such as flukes and tapeworms, some of which infect humans. Among tapeworms, the species that infect humans and belong to the genus Taenia are certainly the most popular, but it is expected that all vertebrates can have at least one tapeworm parasite, so that it is only a matter of time and opportunity for us to discover them all.
Among the species known to parasitize horses, the most widespread is Anoplocephala perfoliata, which I decided to call the common horse tapeworm. As tapeworms in general, the adult common horse tapeworm lives in the intestine of its definitive host, in this case a horse.
Different from species of Taenia, which can grow up to several meters in length, species of Anoplocephala are much smaller. The whole body of adult specimens measures about 5 to 8 cm in length and 1 to 2 cm in width and is divided into the same parts seen in other tapeworms. The anteriormost part of the body includes the scolex, which has 4 large suckers. Although the scolex of most tapeworms measures less than 1 mm, in the common horse tapeworm it reaches up to 3 mm.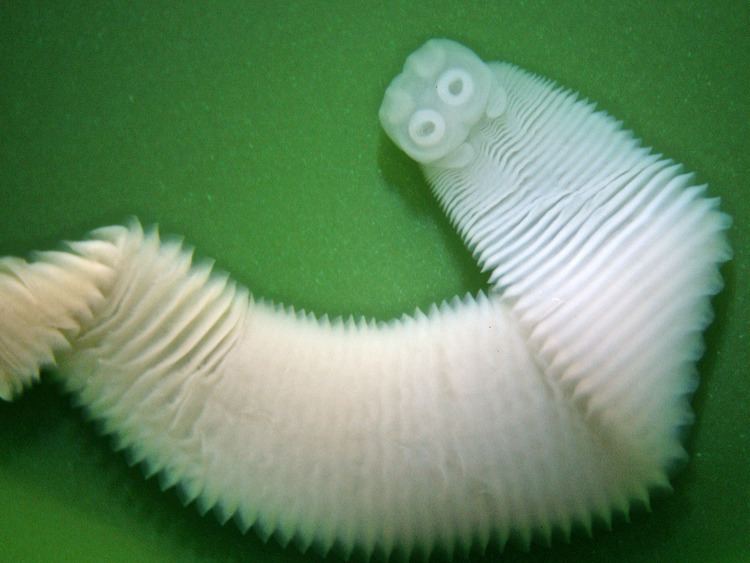 After the scolex there is a small neck of undifferentiated tissue that grows constantly to build new proglottids, which form the rest of the body. Proglottids are connected to each other in a chain fashion and the posteriormost ones are continuouly lost and released into the environment. Each proglotid contains male and female sexual organs and is released when it contains mature eggs.
Mature proglottids are released in the environment through the horse's feces and release their eggs on the ground and the vegetation. The eggs can survive outside a host for as long as 9 months. During this time, they hope to be accidentally ingested by oribatid mites that live in pastures. If this happens, the egg hatches inside the mite due to the mechanical action of the mite's mouth parts and releases the first-stage larva called the oncosphere.
When the oncosphere reaches the mite's gut, it is activated, probably via ions present in this environment, and uses a group of hooks to penetrate the mite's tissues. After about 8 to 20 weeks, the oncosphere develops into a cysticercoid. This stage looks like an inverted miniaturized tapeworm inside a bladder-like vesicle, having already a protoscolex inside it.
While horses are grazing, they always ingest some invertebrates together with the grass. It they happen to ingest an infected mite, the cysticercoids are released during digestion, evert the protoscolex and attach to the intestinal walls of the horse. There, the tapeworm develops into an adult, restarting the cycle.
Attached to the intestine of their hosts, tapeworms do not feed on blood or other tissues as many parasites do. Instead of that, they collect nutrients directly from the host's gut by absorbing them via the worm's body surface.
For a long time its has been thought that the common horse tapeworm was a harmless parasite since most horses did not seem to have any symptom and the tapeworms were often only discovered during dissection after the horse's death by other causes. The preferred area for the common horse tapeworm to attach is the caecum and the ileocaecal junction but in heavily infected animals some individuals can be found in suboptimal sites throughout the small and large intestines. In such heavily infected horses, the tapeworms can cause colics and even intestinal obstruction.
The common horse tapeworm can infect other equids as well, such as donkeys and zebras. Ironically, domesticated horses seem to be the most infected individuals exactly because horse owners treat them with anthelmintics. Most modern anthelmintics do not affect tapeworms and only remove other parasites, such as roundworms, which reduces competition and allows tapeworms to thrive.
– – –
More parasitic flatworms:
Friday Fellow: Green-banded broodsac (on 09 March, 2018)
Friday Fellow: Salmon Fluke (on 11 January, 2019)
– – –
– – –
References:
Gasser RB, Williamson RMC, Beveridge I (2005) Anoplocephala perfoliata of horses – significant scope for further research, improved diagnosis and control. Parasitology 131(1): 1–13. https://doi.org/10.1017/S0031182004007127
Tomczuk K, Kostro K, Szczepaniak KO, Grzybek M, Studzińska M, Demkowska-Kutrzepa M, Roczeń-Karczmarz M (2014) Comparison of the sensitivity of coprological methods in detecting Anoplocephala perfoliata invasions. Parasitology Research 113(6): 2401–2406. doi: 10.1007/s00436-014-3919-4
Wikipedia. Anoplocephala perfoliata. Available at < https://en.wikipedia.org/wiki/Anoplocephala_perfoliata >. Access on 11 June 2020.
– – –
*
This work is licensed under a Creative Commons Attribution 4.0 International License.