by Piter Kehoma Boll
All around the world, many animal species have adapted to live in cave environments, places that are naturally devoid of light, either partially or entirely, and are, therefore, nutrient-poor habitats. The lack of light makes it impossible for plants and other photosynthetic organisms to survive and, as a result, little food is available for non-photosynthetic creatures. They rely almost entirely on food that enters the cave from the surface by water or animals that move between the surface and the depths.
Due to the lack of light in caves, animals adapted to this environment are usually eyeless, because seeing is not possible anyway, and white, because there is no need for pigmentation on the skin to protect from radiation or to inform anything visually. On the other hand, chemical senses such as smell and taste are often very well developed.
All these limitations make cave environments relatively species-poor when compared to surface environments. Or at least that is what it looks like at first. There are, of course, much less macroscopic species, such as multicellular animals, but those animals are themselves an environment and they may harbor a vast and unknown diversity of microrganisms inside them.
As you may know, most, if not all, animals have mutualistic relationships with microorganisms, especially bacteria, living in their guts. Those microorganisms are essential for many digestive processes and many nutrients that animals get from their food can only be obtained with the aid of those microscopic friends. The types of microorganisms in an animal's gut are directly related to the animal's diet. For example, herbivores usually have a high diversity of microorganisms that are able to break down carbohydrates, especially complex ones such as cellulose.
A recent study, conducted in China with fishes of the genus Sinocyclocheilus, compared the gut microbial diversity of different species, including some that live on the surface and some that are adapted to caves. All species of Sinocyclocheilus seem to be primarily omnivores but different species may have preferences for a particular type of food, being more carnivorous or more herbivorous.
The study found that cave species of Sinocyclocheilus have a much higher microbial diversity than surface species. But how can this be possible if there is a limited number of resources available in caves compared to the surface? Well, that seems to be exactly the reason.
As I mentioned, species of Sinocyclocheilus are omnivores. On the surface, they have plenty of food available and can have the luxury of choosing a preferred food type. As a result, their gut microbiome is composed mainly by species that aid in the digestions of that specific type of food. In caves, on the other hand, food is so scarce that one cannot chose and must eat whatever is available. This includes feeding on small amounts of many different food types, including other animals that live in the cave and many different types of animal and plant debris that reach the cave through the water. Thus, a much more diverse community of gut microorganisms is necessary for digestion to be efficient.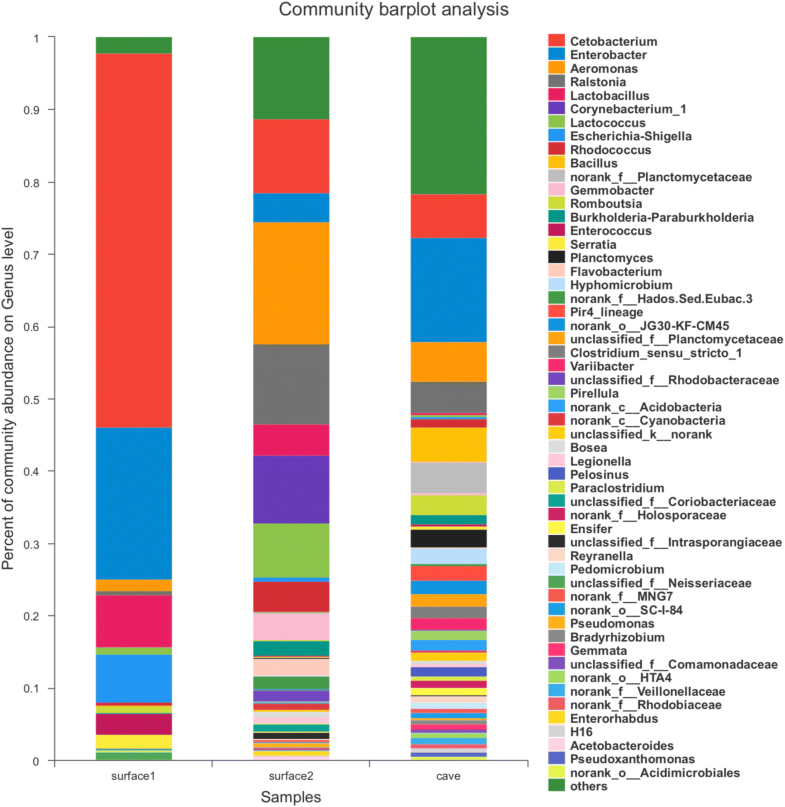 More than only an increased diversity by itself, the gut community of cave fish also showed a larger number of bacteria that are able to neutralize toxic compounds of several types. The reason for this is not clear yet but there are two possible explanations that are not necessarily mutually exclusive. The first states that water in caves is renewed in a much lower rate than surface waters, which promotes the accumulation of all sort of substances, including metabolic residues of the cave species themselves that can be toxic. The second hypothesis is of greater concern and suggests that this increased number of bacteria that are able to degrade harmful substances is a recent phenomenon caused by an increase in water pollutants coming from human activities, which is promoting a selective pressure on cave organisms.
The diverse gut microbiome of cave fish is, therefore, a desperate but clever strategy to survive in such a harsh environment. Nature always finds a way.
– – –
More on cave species:
Think of the worms, not only of the wales, or: how a planarian saved an ecosystem
Friday Fellow: Hitler's beetle
– – –
– – –
Reference:
Chen H, Li C, Liu T, Chen S, Xiao H (2019) A Metagenomic Study of Intestinal Microbial Diversity in Relation to Feeding Habits of Surface and Cave-Dwelling Sinocyclocheilus Species. Microbial Ecology. doi: 10.1007/s00248-019-01409-4